Next Dare to Lead™  Workshop – Online
Series of 5 Sessions, 3 1/2 hours each, full of self-reflection, break-outs, practical activities, videos, and gritty conversation to operationalize daring leadership skills.
Sundays, April 19, 26, May 3 & 10, Noon – 3:30 Pacific Time
$400 – Sliding scale and scholarships available.

This includes 1 follow up online gathering and 2 individual 30 minute coaching sessions after the workshop.
---
Daring leaders are self-aware, know how to have hard conversations, hold themselves and others accountable, build trust, lead with empathy and connection, take smart risks that lead to innovation, reset quickly after disappointments and setbacks, and give and receive feedback – especially when it's tough. We need braver leaders – in our communities, board rooms, as parents, in our workplaces. And braver leaders cannot embrace courage without being vulnerable, facing risk and emotional exposure. This workshop helps you get there. Because Courage is Teachable.
Facilitated by Kris McRea: a Certified Dare to Lead™ Facilitator and Courage Catalyst in the Dare to Lead™ program, Kris focuses her work on helping nonprofits, communities, parents, small businesses and individuals learn skills of courage and vulnerability needed to support brave leaders and build more transparent and wholehearted cultures.She loves how these skill sets have shifted her own way of leading, parenting, and being in the world.
A leader is anyone who takes responsibility for finding the potential in people and processes, and who has the courage to develop that potential.

BRENÉ BROWN – dare to lead
About the Dare to Lead™ Program
Dare to Lead™ includes facilitation, self-reflection, practical activities, dialogue, and short videos hosted by Brené on the four teachable, observable, and measurable courage skill sets: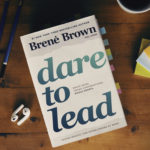 Rumbling with Vulnerability: Facing risk, uncertainty, and emotional exposure with courage and clarity.
Living into our Values: Identifying, operationalizing, and practicing the beliefs that we hold most important.
BRAVING Trust: Creating or deepening connections in relationships and teams based on the seven elements of trust.
Learning to Rise: Learning and growing from the failures, setbacks, and disappointments that are inevitable when we are brave with our lives.
Individuals who successfully complete the full 16-hour Dare to Lead program receive a certificate of completion and are allowed to put a Dare to Lead Trained badge on their LinkedIn account.
About Brené Brown
Brené is a research professor at the University of Houston where she holds the Huffington Foundation – Brené Brown Endowed Chair at The Graduate College of Social Work. She has spent the past two decades studying courage, vulnerability, shame, and empathy, and most recently completed a seven-year study on courageous leadership. She is the author of five #1 New York Times bestsellers: The Gifts of Imperfection, Daring Greatly, Rising Strong, Braving the Wilderness, and Dare to Lead, which also debuted at #1 on The Wall Street Journal and Publisher's Weekly lists.
The most significant finding from Brené's latest research is that courage is a collection of four skill sets that are teachable, measurable, and observable. The Dare to Lead™ program focuses on developing these courage-building skills through workshops, trainings, and coaching to help individuals, teams, and organizations move from armored leadership to daring leadership.
McRea Consulting offers this courageous work as part of our core of service in the world. Kris would love to discuss bringing this work to your teams, organizations, or personal coaching practice.